The Brothers Grimm
We've all heard the tales told by the Grimm Brothers: Snow White, Rapunzel, Sleeping Beauty, Hansel and Gretel, and many more.
But we never hear the story about the Grimm Brothers lives.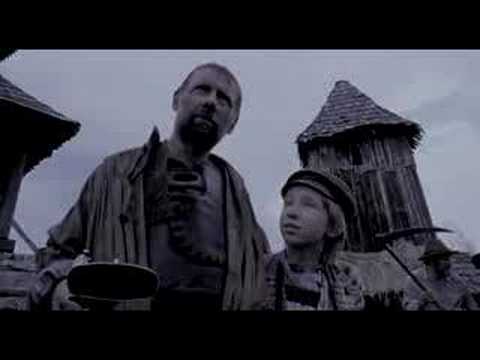 The Brothers Grimm, tells the (fictional) story of Jake and Will Grimm.
Jake is played by the late Heath Ledger and Matt Damon plays Will, two distinctly different brothers who make a living protecting villagers from enchantments, witches, and the like, that haunt their towns. Little do these townsfolk know that the Grimm Brothers are conning them. The brothers' colleagues haunt the town, while the brothers collect money for "exterminating the creatures".
Things go awry when a French General discovers the Brothers' lies. In exchange for their lives, the brothers are asked to step in and stop the haunting of a town where young girls have started to go missing in the nearby forest. The Grimms think there is a human perpetrator behind these disappearances, but the brothers quickly learn that there is something evil in the forest that cannot possibly be human.
The Grimms must find out how to save the girls, stop the evil from manifesting, convince the General not to take their lives, and win the heart of the woman in which they both have in interest.
The Verdict:
This is a fun movie from start to finish.
Matt Damon's character is a very stern, clever, and business-oriented man. He is also quite the womanizer. On the other hand, Heath Ledger's character is a little goofy and lacking in "street-smarts", but a very good writer and knowledgeable about all ancient tales. Their personalities clash for moments of tension and loathing, but they have to learn to trust one another's instincts to beat a real evil.
The movie is also filled with little homages to the Grimms' famous tales, for example, a girl in a Little-Red-Riding-Hood.
I enjoyed this movie. A lot of creativity and real emotion is expressed throughout the film: it keeps you entertained, even when you reach informational segments, which commonly become dry in other films.
1 thumb up and a smile,
The Quibbler