"Sorry I'm Late" This took him a while to make.
What do you get if you have a bunch of pillows, stuff animals, toy cars, and other random household items as the set for a short animation? Well, if you are Tomas Mankovsky then you are likely to make one heck of an intricate short!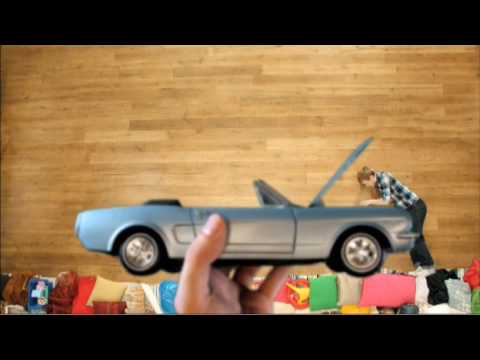 The title reveals the plot which it's obviously very self explanatory, but what gives this short its soul are the adventures our protagonist (only mentioned as the "late guy") encounters while he is trying to make it to his final destination. Oh, did I mention that the animations were done with still shots, with a camera being pointed towards the ground? Pillows became the road, a tinted plastic paper made the ground become the sea, and the sofa was an obstacle. Mankosvky was able to create a movie out of a concept that we have all played with as kids. He made a living room the scenario for a grown kid's adventures, and there is nothing cooler than to actually being able to see our childhood fantasies being brought to life exactly as we used to imagine them.
The whole thing was shot with the main actor being able to mimic poses from frozen frames while laying on the floor, and the floor made of pillows and other random stuff being moved backwards in order to create an illusion of the actor moving forward. Just the thought of it all makes me think of one little trait that I myself lack of at times: Patience!!!
The result was pretty simple, but the whole idea was short from being uncomplicated. The over three minutes video took more than just a lot of effort to be created. It took a lot of guts! Yes, I say guts in the senses that someone would actually attempt to make something out of what it seems a pretty childish idea, and the gut feelings of knowing that the whole project was walking towards the right direction, when there wasn't a guide for the animation being done. Aside from a few animation tests being done at the director's house, a lot of the scenes were done with the element of surprise in them since there was no way to know if the overall end result was going to be as believable as possible.
So now you know that with imagination everything is possible, and even our living rooms can become a playground for different adventures. Who knows, it can even become the sea.