Gigantor comes to life (sort of)
Oh, I had to jump on this.
I've never heard of Gigantor, but apparently it was a Japanese cartoon from the '60′s whose popularity brought it state-side. The series focused on the hijinks of a twelve-year-old boy who controls an enormous robot named Gigantor, despite having a human character named Dick Strong, which is inherently more interesting. Since I'm unfamiliar with both the show and the character, I have to guess neither made a very large impact on American pop culture. Japan, of course, decided it would be prudent to celebrate the character by building a life-sized statue of him.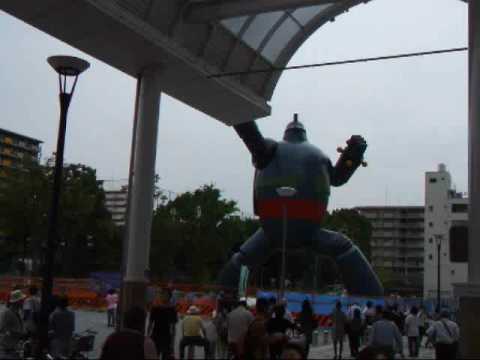 It's probably ignorant to look at this enormous statue and immediately have the urge to make a Godzilla joke, and frankly half the people reading this are probably thinking of their own anyway, so I won't attempt it. I will say, however, that while this is a very cool statue in it's own right, I don't know if it's necessary to build a 60-foot tribute to a TV show from 1963. It's kind of like making a second Mount Rushmore, but instead of faces of influential presidents, you carve the cast of M*A*S*H into the mountainside. This still seemed interesting as a feat done for the sake of itself until I realized Korea built  364-foot Taekwan V for a theme park. Oh, well. Good effort, Japan.