Create Your Own Floating BookShelves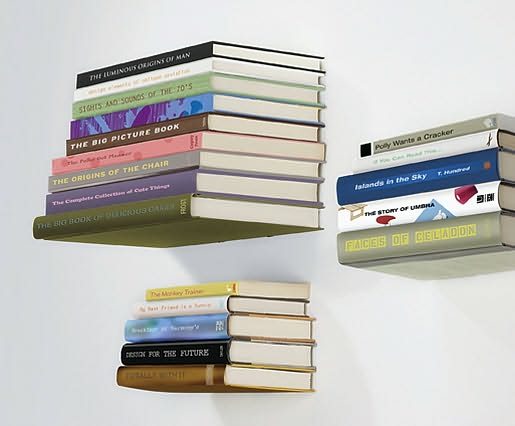 So I have a rather vertical home.  And I thought a way to make my meager apartment look larger was to get rid of all the shelving units I had and put the books on the walls…but in a stylish way.  While looking around on tumblr I found ! really like invisible bookshelves. Like the ones above.
It's interesting, artistic, and a good use of space.  I went out to buy them at the store and it was about $20+.  I hesitated on buying it, went home, and looked online to see if there was a cheaper option.  And i found this wonderful DIY.  It was simple and really fun!  You can find it on wikihow.  The directions were really simple.  And there's even a comical video guide to help if necessary.  And after purchasing all the necessary materials i spent $25 on 4 shelves.  YAY!  The only down side to making you're own is finding the base of your shelf.  DIY floating shelves require a sacrificial book to be the bottom.  The instructions tell you to choose a book that you'll never read again.  Instead of choosing one already in my library, I found $1 books, old college textbooks, and books with humorous titles to be my base.  My shelves turned out great and I had such a great time making them.
Of course if you aren't the do-it-yourself type you can find the Umbra design by simply by typing it in google.  I found it on Barnes and Noble and eBay.
Yay for housing books!
and the extra book shelf is a Flybrary shelf from organize it