An Apple for the Wrist?
Here's an Apple-centric concept from the Italian design firm ADR Studio, one that I'm not sure was thought all the way through.  For the most part, I am completely in love with my Apple products, and I think the brain children behind these stellar items know what the public wants.  Which is why I'll bet Apple wouldn't embark on this adventure in wristwatch domination.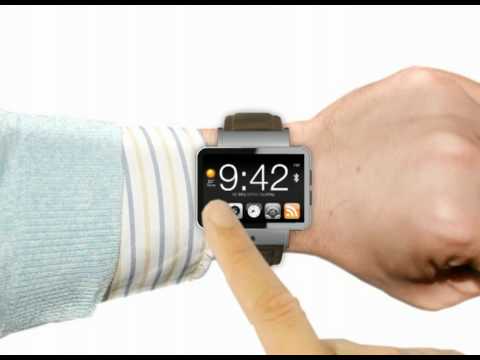 ADR Studio's iWatch concept takes form in a rectangular casing made of aluminum, with various color choices of thick wrist straps.  The watch has 16GB of internal storage and connects to the iPhone or iPad by either Wi-Fi or Bluetooth. It can answer calls via iPhone, or display RSS feeds, weather or photos. It even has a built-in projector for viewing photos and video on the wall.
I suppose this watch concept by ADR Studio is a cool idea, but would quickly lose its coolness quotient as soon as it hit a real wrist.  First off, we all know that iPhones are on the heavy side for a mobile phone, and I don't think this smart-watch would be any different in weight to size ratio.  Due to the heaviness of such a watch, your watch arm would become stronger than the other.  Secondly, it's not that stylish.  Can you imagine all the professionals, business people and style mavens who own Apple products wearing a watch that looked like that?  And lastly, how many different smart devices do we need to carry on our person?  You've got your iWatch connected to your iPhone, your iPhone synched up with your iPad, your iPad sending information to your iWatch….it's starting to sound like one of those children's songs to help learn anatomy rather than a way to simplify your life.
So, yes, this watch is interesting.  Yes, this watch can do many things.  And yes, gold stars will be given out tomorrow.  The bottom line is, most people don't even wear watches anymore–they can tell time on their iPhones, iPods, iBooks and iPads.  So for this innovative concept to have a chance in hell getting off the ground, they'd first have to bring back an old concept…telling time on your wrist.